The moment I tendered my resignation, I was very ecstatic. I had in myself high hopes to start anew. I savored every day that I was free of work, no boss, no deadlines, no worry of time. It was a vacation, enjoyed to the fullest.
By the first week of the new year, I was all up in looking for things to keep me busy. The

www

was my avenue in searching for that new job. I was so proud, I told myself that I won't have a hard time landing a job, I was picky and choosy in a condescending manner. But that got the better of me. It's over a month now of a not-so-blissful unemployment, that I can officially say

I am a Bum

.
So why am I writing this blog? because I want to rant and I have nothing else to do. That's why.
You see, people should know better to use a more frank line than just saying

"we'll give you a call."

And I guess I should even be smarter to know that it means that they don't want me, rather than pathetically hoping. Then I'll just have to contend by telling myself that somebody else is way better than me, but that wouldn't be true in all cases, and I believe that there should be at least one thing that I can be good at. Notwithstanding the bunch of interviews and exams that I have had, the hours spent here at home seemed to be ticking real fast and it's making me go crazy for not being productive at all. Say less productive, kinder that way.
I am an architect, and I find it silly that prospective clients will tell me I charged too much for a piece of drawing in a paper.

whadda eeeff!

It ain't just no crap drawing, ignorant! - it's my creative idea you're paying me for, in which you might make more money out of it. Besides, my services goes way beyond the drawing, my charges are based on an

effin'

code that I am bound to follow; and for crying out loud, it's not even near what's supposed to be. People don't question the charges of the doctors, heck they don't question why lawyers need to be paid some

effin'

much for every appearance or consultation.
Anyhow, for this experience I thank myself. Had I not been blessed with patience, I would have literally gone out of my mind. There were instances that I went on a meltdown, teary-eyed and even questioned my capabilities, but I guess this is all part of a whole learning experience, to put it in a milder manner. For the month that I was always at home, it was actually surreal watching my son go to school, my wife sleeping after a night's work, the help doing the daily chores, all these trivial stuff I couldn't have witnessed had I been too busy with something.
Lastly, one good thing also happened today. A friend of mine had commissioned me to do

"face lifting"

for his house, and just earlier I already submitted the working drawings after almost a week's work and he handed me my first official paycheck as an architect. Isn't this momentous.
This is good, at least I will have some

moolah

for the month of hearts.
final dose:
This is the year of the hare, everyone should be in a productive mode. methinks.
♪♫

Sinulog, isyagit ug kusog; (Pit Señor, Pit Señor) tanan magsaulog
Sinulog, isyagit ug kusog; (Pit Señor, Pit Señor) tanan magsaulog
♪♫
Every third Sunday of January, Cebu celebrates the grand festival that is the

Sinulog

. And for the past four years, we as a family have always joined in the revelry. We have made it an annual thing, we even have made the same route every year, although the plans vary, it has been quite similar as always.
A lunch at the

Binamira's

, then a stroll to the streets where the grand parade passed by. Here and there we grab ourselves a beer, stay at a comfortable area, had ourselves dirty with paint and henna tattoo. Then by early evening we drive our little boy home and go out again to party the night away. This year though was a wet one, the rain did not let up. But that did not dampen our spirits to celebrate.
Then as has been annually, a week after the city's

Sinulog

, is our village's own fiesta. And we have always made it a point to invite friends and family to our house for a little gathering. For those, who had a hard time getting a glimpse of the

Sinulog

parade in the city, Sto. Niño Village's

Sinulog

is the better option, as the dancing passes right in front of our house, with a lesser crowd but of course incomparable to the city in terms of grandeur. Nonetheless, the festive spirit is ever present.
Last year we had kiddie games as it turned out to be like a children's party, this year though we still have games but was made for the grown-ups, and with booze overflowing, the night was capped with so much fun.
Sinulog

is a Cebuano tradition. We had ourselves made a tradition too, so until the next year's

Sinulog

. We should party again.

Pit Senyor

! everyone.
final dose:
♪♫
Gisugdan ni balanghay maoy atong dungog
Sayaw nga giparis pag lihok sa sulog
Pangadje ug manampit alang sa Santo Niño
Ihalad ang kinabuhi aron malipay pa ang Ginoo

♪♫
So we are now a year before the
Mayan
calendar ends, how fast time flies. And if we aren't ready yet, we all might as well be working in China. In there, we are nearer where the "
arks"
are, in case the great flood should occur.
Anyhow, what I'm saying is - It is 2011. And as always, we all want this new year to be better than the previous. I would admit, 2010 was pretty much a great year for me and my family. So how does this year top the last?
Now, this is the point where I usually put in what I hope the year would be, but in bits and pieces and in general, as we may never know how everything else will go as the months will pass.
I have just recently resigned from my work, so I hope the year of the rabbit will present me with a better job, one where I will be most happy and will most likely be able to provide better for the family.

For the last two years, luckily, our little boy has not been hospitalized for any major sickness, and my hopes are still high that this year,

Zai Angelo

would remain as healthy as ever. And of course as smart as always.

Wifey on the other hand, got for herself a new job by the later part of the 2010. All I wish for her is to stay happy with where she is now, and that she will continue to learn and soon achieve what her ultimate aspiration is.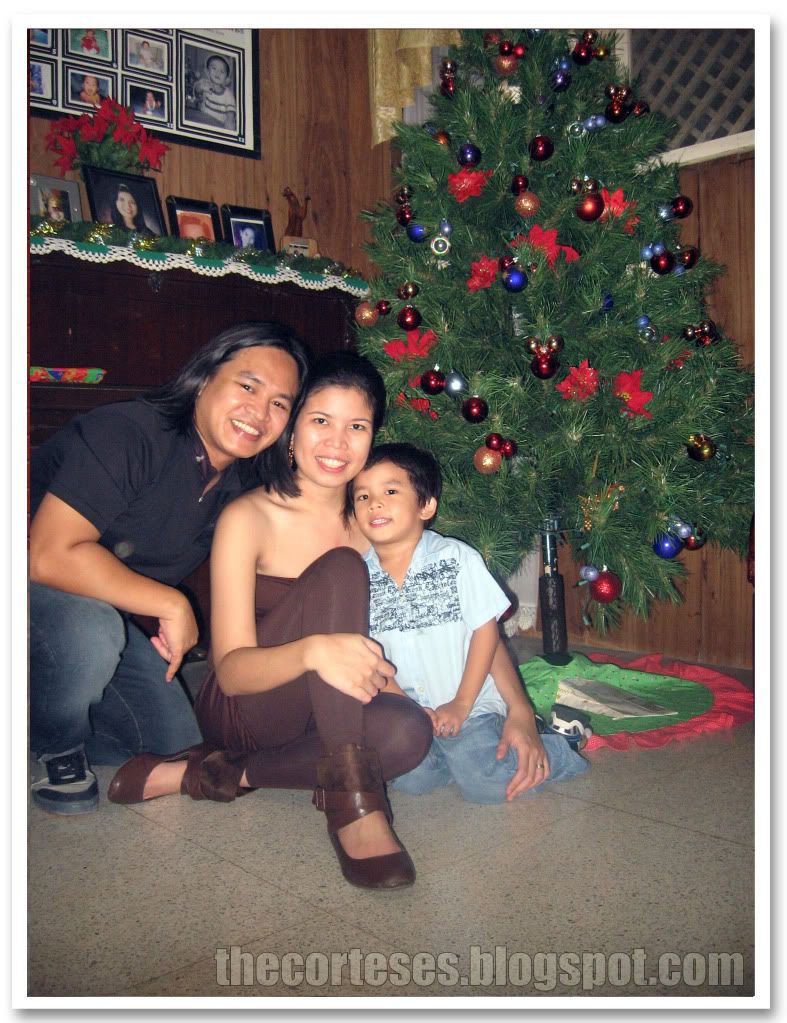 theCorteses

, welcoming the new year
As we are a family of three, I only had these three hopes for this year. One for each of us. It may not be too much to ask, as all is always doable. Hope 2011 will be a good year for everyone else as well. Hump on 2011!
final dose:
the year of the rabbit will give us some
humping
good time, methinks.