So I thought I could keep this blog updated at least once a week for this year, but you see time is scarce.
The start of the year dump in a lot of stuff right away. The past two weeks alone had me juggling two new projects. horray for me!
I can't help but be grateful for this January blessings, I hope it will be like this until the next year. yay!
So allow me to shout Pit Senyor! As a way of thanking.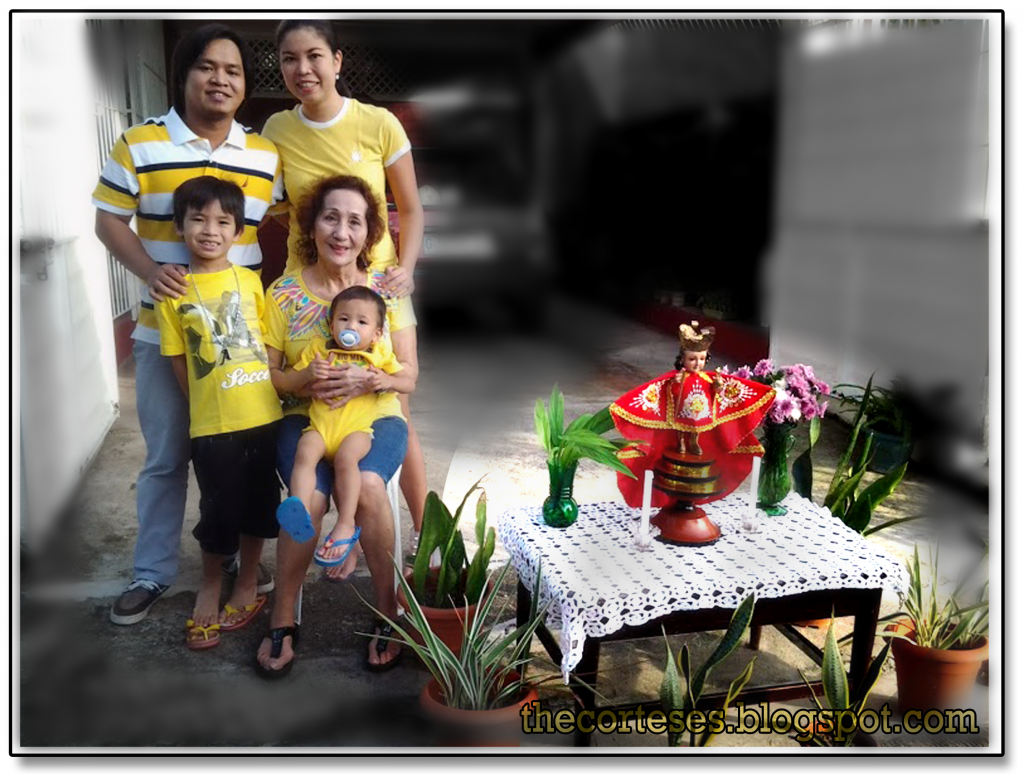 The Corteses during the Pit Senyor Celebration at Sto. Niño Village.
♪♫ Sinulog, isyagit ug kusog; (Pit Señor, Pit Señor) tanan magsaulog

Sinulog, isyagit ug kusog; (Pit Señor, Pit Señor) tanan magsaulog

Sisisinulog, sisisinulog

pit senyor kang lolo kini, pit senyor kang lola kini,

pit senyor kang tatay kini, pit senyor kang nanay kini ♪♫
the year of the wooden horse will lead me to the golden course.
It has been a (insert any descriptive word) 2013!
You can put any word you wish to describe the previous year, what ever it may be, let's all be happy we survived. Here we are now with twenty fourteen, the new year.
There will be new things to look forward to, the year will be full of hope - hopefully full of blessings and of love and of joy. So yeah, we welcome you 2014, bring it on!
H
appy New Year greetings from
A.Cortes Architecture + Design
final dose:
this family blog site has been up since 2007.
The Corteses will be blogging on its 7th year now. yay!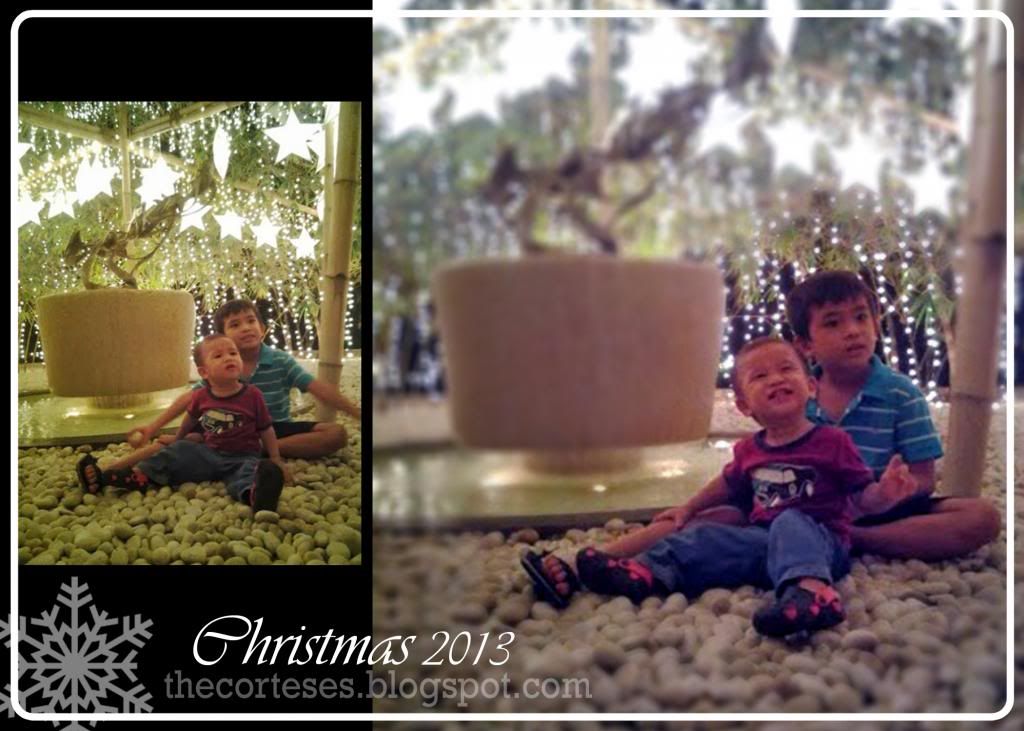 ♪♫ There's a light that shines on everyone, Burning brighter everyday
For the souls who search for peace on earth.It's the Christmas Star that lights the way ♪♫
The Sunday before Christmas we had dinner at Maribago Bluewater Resort in Mactan. They had this fountain area filled with lighted white parols. It was so lovely, the boys just had to take a picture underneath the stars.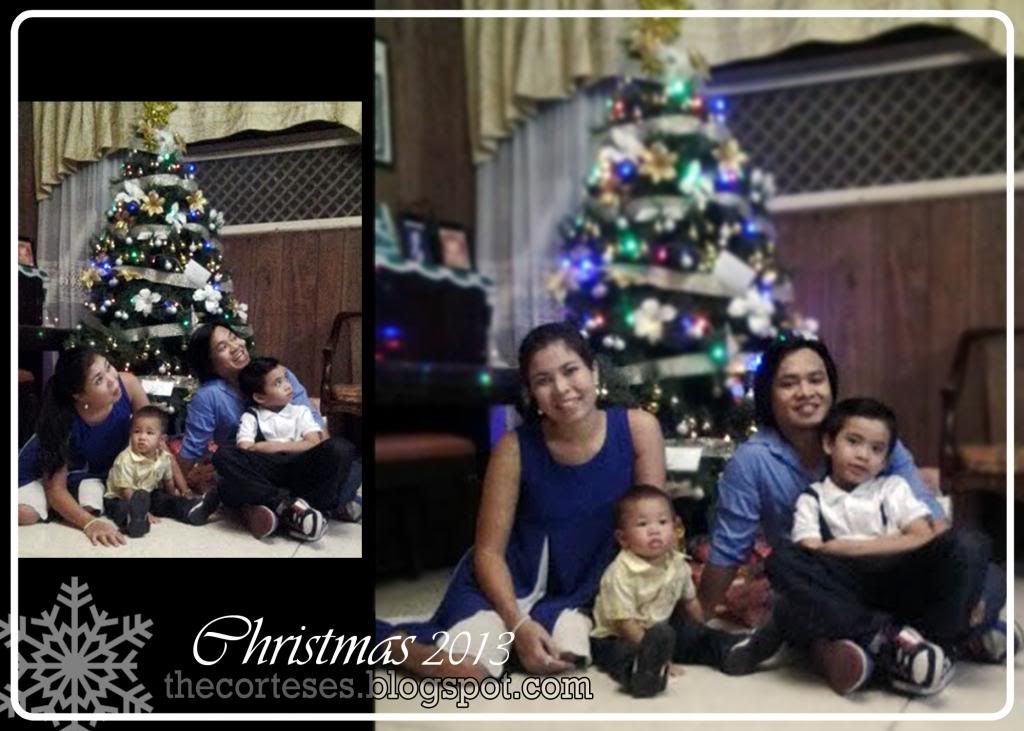 ♪♫ For every year the Christmas tree,Brings to us all both joy and glee.
Oh Christmas tree, Oh Christmas tree, Such pleasure do you bring me. ♪♫
Every after the Christmas Eve Mass or Misa de Aguinaldo, when the family arrives at home, we make it a point to have the yearly family portrait with the Christmas tree behind us. This has been the second Christmas with Tristan around; unlike last year, the second born now knows how to behave and pose during family picture taking.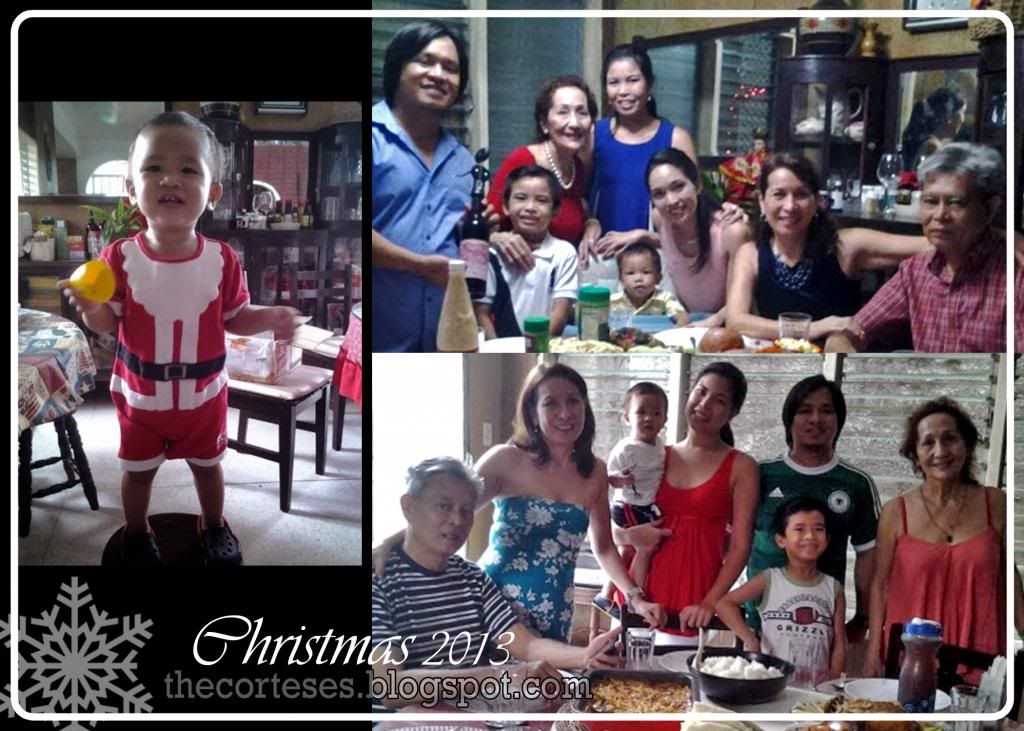 ♪♫
It's the greatest time of year, and it's here, help me celebrate it.
With everybody here, friends so dear, let me simply state it.
Joy to the world and everyone, lift up your hearts and feel the love.
It's our favorite way, to spend the holiday.
♪♫
Christmas is always best spent with family. On the strike of twelve, when you are with loved ones - the noche buena is not just a sumptuous meal together, it's a joyous celebration of love and of life. Christmas day lunch has that same feeling too. It is really the season to be jolly.
The Corteses wish you too had a wonderful Christmas.
♪♫ Have yourself a merry little Christmas, let your heart be light

From now on, our troubles will be out of sight

Have yourself a merry little Christmas, make the Yule-tide gay,

From now on, our troubles will be miles away.

Here we are as in olden days, happy golden days of yore.

Faithful friends who are dear to us, gather near to us once more.

Through the years we all will be together, if the Fates allow

Hang a shining star upon the highest bough.

And have yourself A merry little Christmas now.♪♫
It's that time of year once again, and what a wonderful song this is! It gives you that warm, fuzzy feeling - full of hope and promise, and above all, of love. In case you were wondering how The Corteses fared this year, here are a few updates.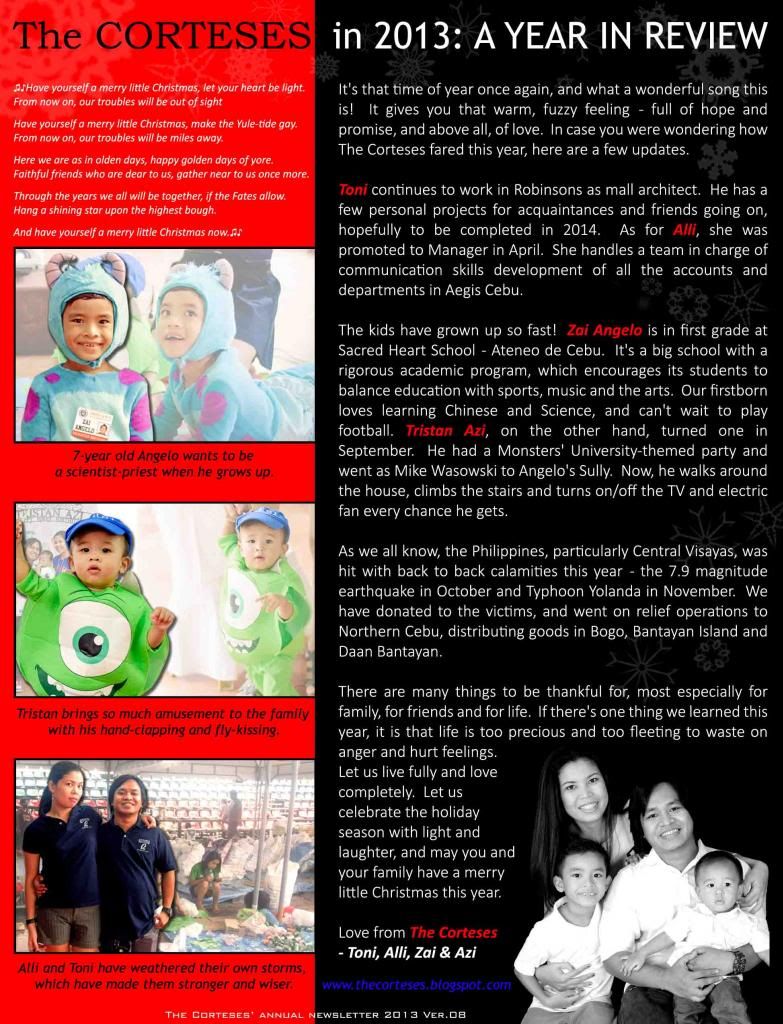 The Corteses' annual newsletter 2013, Ver.08
This is our annual newsletter, now on its 8th edition. We always have it posted on this site for the sake of those not included in our mailing list. And each year it has been a joy to put together what we want to share - the stories and the pictures. So for those who will be getting one, hope you'll love it.
So have yourself a merry little Christmas now
- love lots from The Corteses.
My parents were not really that active with school affairs back when I was still in elementary and high school, much more in college. Basically, they would get to be in school only during getting of report cards, enrollment, recognition day and commencements. Rarely will they go to family days and other school affairs.
The moment our first born started schooling, Wifey and I have been pretty much involved – from the usual parents meeting to all school activities be big and small. At one point, one of us has been elected as one of the PTA officers. It's not that we act like stage parents, but for the three schools that the first born has attended, he has always been actively involved with school activities.
From Marie Ernestine School, to USC North Campus and now at Sacred Heart School – Ateneo de Cebu; Zai Angelo has in one way or the other joined most school activities – be it as representative for his year level in the United Nation's month to joining school quiz bees or as the Narrator for his school's year end play.
As a parent, seeing all these gives you firsthand experience of how your child grows both in academics and the extra-curricular things. Believe me, any kid gets to be more proud of himself when he sees his parents watch him strut his stuff in school. So take my advice, get involved with your child's learning process – take time to join school affairs even it would mean dragging yourself on a hot Sunday with a hang over after a Saturday night out.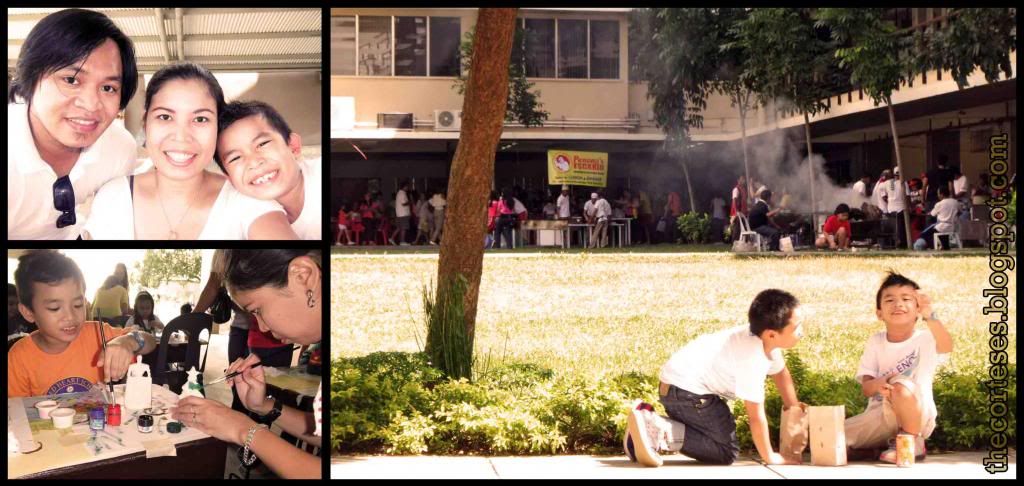 Ateneo de Cebu's 2013 Christmas Fair
the Corteses at SHS-AdC + Zai & Mom doing figurine painting + Zai & classmate playing with chicks.
At the end of the day, the most overwhelming key to a child's success is the positive involvement of parents. –

Jane D. Hull
Search
tête - à - twêet

the daddy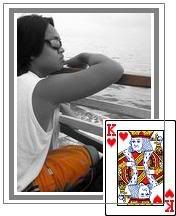 drawing inspiration from his little boys and wife.
he writes
mostly about topics on family, fatherhood, about architecture and the arts.
know more about

TONI

here

hot momma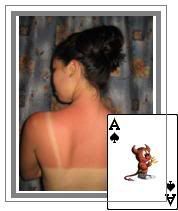 the proofreader and the ever dutiful wife and mother. she shares her philosophies and writes about friendships and on being a mom. learn more about

ALLI

when you click
here

big brother
he is crazy about lego. he can be playful and naughty sometimes. get to read his views on childhood, playmates, toys and kiddie stuff. get to know more about

ZAI

on our about us page

'lil bro
he is the newest Cortes, Tristan Azi is now the baby in the family, get to know more of him when we update about his development through the years. learn more more about

AZI

on our about us page

dose categories

a different dose

dose archive