Continuing from where we left off, we arrived in
Manila at
a quarter to 7 in the evening on Friday. All the while
we tho
ug
ht that the day's protest rally in

Makati

had already died down; but the hustle and bustle of the ca
pit
al was still evi
dent
when the
bus traversed the stretc
h of

EDSA

. If not fo
r the car
that
Mhon's sister lent us, we would probably have looked like "

probinsiyanos

" acting as tourists, and would be more inconvenienced throughout the trip. Our great gratitude to

Manang

Sherry.
A sumptuous dinner at

Cuzina

, one of the many restaurants
in the

sutukil

strip along

Roxas boulevard

, kic
ked
o
ff the se
cond leg of our
Valentine's w
eek trip. Good thing half of the bill was Stephen's treat, sort of his celebration for passing t
he nautical board exam, much to our delight, as we enjoyed the variety of seaf
ood. Fo
od always tastes more delicious if it's free. It was way past 10pm when we left our bags at the

Universit
y Ho
tel

; we took a
few min
utes to freshen up as we didn't want to miss what was already a party scene when we passed the

sunken gard
en

of th
e

University of
the Philippines - Diliman campus

. Still heavy from the dinner,
we scoured the backstag
e and the fair area, not leaving without posing for photographs w
ith a couple of ar
tists. Th
is was o
ur third night on the trip and our streak of beer drinking was far from over, our alcoh
ol level got even higher at
Quattro bar

in

Timog

. Their beer mug was t
he
biggest we've seen so far, I can hear my liver complai
ning with every gulp. Tired from th
e travel, we went back to
the hotel
at around 4 in the morning.
The third day ended with the boys separated from the ladies. Freaking hotel rules.
Rise and shine
we did on Saturday as we enjoyed anoth
er free meal for brunch at

Heaven and Eggs

in

Eastwoo
d city Libis

, care of

Manang

Sherry this time. S
he sure is
generous. I can't figure out why of all
the stars in the

celebrity walk
of
fa
me

,
I posed for a picture on

Chiquito's

. Wifey opted to show her being a

Sharonian

. There's no denying that Eastwood has a well-planned cityscape. After that, we made our way to

Global City - the Fort

, and I can't
be m
ore amazed with the architecture, the streetscape and the whole built environment. If only the country was designed in such a way,
fountains and greens, all clean and neat. Anyhow, if not for the map we bought in a gas station we would have difficulty finding our way from the Fort to

Trinoma
mall

. There
we met up with Allison's cousin Mari, and his wife Grace. I was about to spoil
the day for acting li
ke
a kid, not getting the FrancisM shirt I sought, but t
he aroma
of a cup o
f coffee f
rom

Figaro's

, paired with a good smoke, plus the l
andscape architecture on the topmost floor of Trinoma somehow pacified me. After which I was already in the mood to give my wife a shopping
spree, while also buying something for the little boy we left behind. When we figured that our pockets were almost drained, we opted to have an inexpensive dinner
at

Mang

J
immy'

s, a know
n

carenderia

amo
ng the students of the
schools along

Katipunan Avenue

, so says my wife.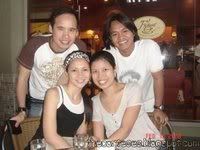 Toni poses at the star of

Chiquito

at the walk of fame in Eastwood
Mari and Grace with Alli and Toni @ Figaro's cafe in Trinoma mall

Alli, proud to be a

Sharonian

at the walk of fame in Eastwood
Satisfied with the sizzling dishes we had at

Mang

Jimmy's, we were ready to rock the last night of

UP fair

, but not without drowning some bottles of r
ed horse
. Now it goes without saying that we pretty m
uch had a good drinking
spree going at

Four Brothers

along

Maginhawa street in Teacher's Village

that we lost track of the time, especially with Allison meeting up her cousin Bunny, resulting in us not being able to catch a few of the rock artists that played in the Fair. But hell, we still enjoyed the rest of the night, big thanks to Doris for the backstage passes. I said to myself, What the eF! the last time I was able to rock and roll with a lot o
f bands of this magnitude was god knows when, probably since time immemorial. Sugarf
ree, Cambio, Chicosci, Hilera, Mojofly an
d Urbandub were among the bands who played. Wifey couldn't be more ecstatic to be back in

UP-diliman

and be part of the centennial celebration of her alma mater. As The Dawn was playing their undying hit

Salamat

, we were on our way
to the backstage after secr
etly drinking the beer in cans we sneaked in at the sunken garden's fairgrounds. We continue
d to rock on together with yan2x, genee and the few remaining artists among others. The time was a little over 2 in the morning when Cebu-based Indie band Hastang went to play
onstage. Gro
upies that we are, we proudly jammed wit
h the band as they sung

Oblivion

and

Random

. Then it just dawned on me - hey, I just experienced UP fair for the first time.

the three pairs at the backstage together with Doris
with the band Hastang, while waiting for the band's turn to play
Our last night of the Valentines week trip ended with a bang! Definitely.
By ten in the morning on Sunday, we were out of the Hotel, out of the

UP campus

and on the way to

Ortigas

to leave the borrowed car at

Paragon Suites

. The delay of our flight back home made us savor the

Valentines week trip

one last time. That was three days of paid leave, two weekends, six unique individuals, three dynamic pairs, a cold Baguio vacation, an enjoyable Manila trip, two nights of rocking at the UP fair, a million memories made and of course hundreds of photographs to cherish.
final dose:
again you can view more pictures at our multiply site
other related stories here and here, more pictures here and here.
Don't you just love how it is only in the Philippines that you get to buy a one peso airplane ticket? Yup! That's how they advertise it, but that's not exactly the amount you actually pay. Cebu Pacific may not have a straightforward advertisement, like the warning in a pack of Marlboro cigarettes saying "Smoking Kills," but we bought tickets at their promo prices and we're happy about it. It was big savings after all. Two thousand seven hundred pesos++ per person brought us from Cebu to Manila and back.
The Valentine's week trip

- three days of paid leave, two weekends, six unique individuals, three dynamic pairs, a cold Baguio vacation, an enjoyable Manila trip, two nights of rocking at the UP fair, a million memories made and of course hundreds of photographs to cherish. That's basically how our much-needed vacation can be summarized.


Our few hours of sleep were compensated the moment we arrived in the nation's capital, plus the thought of finally getting the vacation we had long wished for kept our spirits more awake. We went straight to the bus terminal, catching more nap hours in the 7-hour trip to Baguio. It was almost zero visibility on the ascent of the zig-zag road and the fog made me want to believe in the feeling of heaven. Damn me for not bringing a jacket and no thank you to my body fats, which weren't enough to give me insulation from the cold. After a late lunch at

Steaks and Toppings

, my usual food stop every time I go to Baguio, we left our baggage at the hotel, visited the

Cathedral

and proceeded to have coffee at

Starbucks

SM after what seemed to be a brisk shopping at the flea market, read:

ukay-ukay

. While waiting for my mom and sisters and while admiring the fabric architecture of the mall, it's hard to resist the thought of someday owning property in this city on a plateau.


Dinner at

Kubo Grill

made us learn a lesson: not to eat in open areas during nighttime, as it may just leave you shivering from the cold breeze, but we enjoyed the variety of dishes they offered, nonetheless. It's also funny to note that we went to

Alberto's ba

r. Had we known earlier that the bands playing there sing "

Wowowee!

" and that their Red Horse Stallion is unreasonably priced, plus their weird sign on the dance floor that dicourages man to man dancing, we would not have bothered to enter. We settled at

Brew Yard

in

Nevada

, a chill-out bar with a more civilized crowd and relatively inexpensive beer. With the booze flowing and the cold growing, wifey dared me to play along with Justin on stage. Knowing nobody recognizes us, we did three impromptu alternative tracks and shamelessly failed to finish two of them. A quick stop at

seven eleven

and then we were at our respective hotel rooms at around three in the morning of Valentine's day.


Lights out, cuddles and hugs... ...and that ended our first day in the summer capital.
I hurriedly went to the concierge to get the bouquet of a dozen red roses around eight in the morning just in time to surprise Allison as she woke up. Blame it on cupid for being such a sharpshooter that made me quite romantic to give my wife flowers for the first time. (Yup, first time indeed, I courted her bringing a box of beer in cans.) To the ladies' surprise, they just wondered how the boys got the bouquets when we were together all the time and there were no flowers for sale at the front desk - "We got resources!" is our answer in unison. We really wanted to be cool romantics. With the start of the obvious cheesiness and eternal mushiness, we had breakfast at the least romantic fastfood store - KFC.

Coffee at

Cafe Zola

perked the mood even more, and we were ready to paint Baguio's tourist spots red. A quick stroll at

Burnham park

was first on the list.

Mines' view

was next, and we enjoyed wearing Igorot costumes. We also bought silver jewelry and other memorabilia there. Like scenes from mushy Tagalog movies, we amused ourselves with horseback riding at

Wright Park

, as well as posing for photo ops at the

Botanical Gardens

. Because of the limited time, we weren't able to visit

Camp John Hay

and

PMA

. The sloping terrains of the city was more than enough to make our stomachs rumble with hunger - so we indulged in

one day old chick

, boiled sweet corn, pizza and pasta at

Volante

in

Session Road

. Then there was the need to go back to the hotel to freshen up and rest, well let's call smooching and the moments it will lead to next "rest" for now. We had a late dinner at

18BC

in

Legarda

and we decided to stay in the same place to gulp a couple of rounds of beer. The place was cozy and the live band's music was to our taste.


maica, alli, mhon with their respective bouquets
stephen, justin, toni fight as

igorots

in Mines view
And so another day ended...still with lights out, cuddles, hugs and "rest"
We felt like Chinese traders enjoying breakfast after a tiring morning at

Sunshine Lunch and Panciteria

. It's one of the oldest established food shops in the city, which offers a variety of noodles, soups, big

siopao

and other food choices. A hot meal fueled our haggling prowess in the

city market

for delicacies and

pasalubongs

. Vacations are always synonymous with the obligation to bring something for friends and family back home. What was three bags at first turned into five. So little time so much to do, that always sucks to hear. But we took the 11:30am bus going down to Manila because we needed to. So farewell to the cold atmosphere, it's time to get to our next leg of the Valentine's week vacation.


That wraps up half of the third day.... we'll continue further on the next pose.
final dose:
view photographs of our trip here
and more pictures on this album too


I find it rather taxing thinking of what unique gift to give to my (not expecting) wife this valentine, not expecting to say that I have some sort of surprise. You know how you go through the hassle of mind-boggling brainstorming, extracting whatever creative juices are left in your freaking brain to come up with a memorable Valentine's date. This is one painstaking task a husband needs to go through - to be romantic in the manner of being appreciated. In an attempt of an alibi, this post may sound rather pathetic. (inspired by this blog)
Then a Valentine's Day present wouldn't be a problem at all. Think of numerous glamorous outfits. Just ensure this

desperate housewife

is always in shape and sexy, also see to it not to hire a
hunky
young gardener. Although in reality, you'll have to play as good as Tony Parker and put in impressive numbers every basketball game.


best gift: vibrator
"The 'Desperate Housewives' star claims the greatest gift for any woman is learning how to pleasure herself." The sexy actress, who famously said she didn't have an orgasm until she used a vibrator, revealed: "After I spoke openly about vibrators, I literally got boxes and boxes of free sex toys sent to me.
source:
http://www.beautyden.com/celebrity/evalongoriavibratorgift.shtml
Then a Valentine's Day present wouldn't be a problem at all.
Think of a rock and roll lifestyle. Act naturally stupid and radical to portray a hilarious dysfunctional family. Respond with swearing words in a hoarse and husky rocker voice. Be real friendly to puppies. Party like a rock star. In reality, help with her advocacies and promote her book.


best gift: playboy rabbit

(a different addition to her many pets)
Sharon Osbourne claims husband Ozzy is a sex crazed "rabbit". The stunning 'X Factor' judge claims the 57-year-old rocker can't get enough bedroom action and needs to be satisfied every night. She said: "He's like a rabbit, honestly. We have sex every night we're together. Every night! Sometimes I have to tell him I am too tired, but Ozzy's never tired."
source:
http://www.mybrum.co.uk/birmingham/celebs-sharon-osbourne10.htm
Then a Valentine's Day present wouldn't be a problem at all.
Think of the "typical housewife." just make sure that you don't nag about the supply of beer and donuts. Learn to admire her unapreciated hobbies which includes compulsive cleaning, baking, shopping and giving advice to neighbors. "In reality" won't really apply since Marge is a fictional character.


best gift: a hair spa
"Marge's one extravagance is having her tall blue hair done twice a day. Her hair does come in handy, however, as it enables the Simpsons to locate one another easily when they visit an amusement park or zoo. Marge adds: It doesn't matter how you feel inside, you know. It's what shows up on the surface that counts."
source:
http://www.thesimpsons.com/characters/home.htm
Unfortunately, the three personalities mentioned above do not really come close to wifey, and
thank god that they don't. I'm proud that my wife's inability to be typical makes our whole relationship dynamic. Still it leaves me without any idea of what to give her come the 14th of February. Well, I hope I could pull off something romantic on our Valentine's trip to Baguio City.
final dose:
Happy Valentine's swee' pea!


After handshakes all around and a polite meet and greet, the chat kicked off with me narrating my aunt's speech during our wedding, sharing a revelation of how I have the "gift of gab." On a Sunday afternoon, I was in the business center of a posh hotel in Cebu Business Park, going through a job interview, which I haven't experienced for almost three years. Sitting in front of me across the table was a man in his late fifties, looking like one of those Makati Business Club members with a semi-bald hairstyle and a moustache to boot. An arm's reach away was an apprentice-looking guy sitting on a chair in the corner of the room. They both looked presentable with their neat long sleeves polo and tie. Tapping my finger on the side of my shiny black leather shoe, I felt the tension inside me finally die down when I was back home with my wife in a little over an hour. I had problems telling her straight about how the whole thing went.
They offered me a relocation package, showed me the figures I will be getting and the benefits and commissions the company is offering. They even boasted about how the company is ranked among the top five in the industry in the Philippines. They gave me the option of starting either in a week's time or in two weeks. It was a decision I had to make, but not without consulting wifey. I've always hated the "what ifs" and regrets. I don't want to work in the imperial capital, much more leaving my wife and my kid behind. Plus the thought of having to cut my hair short and being in fancy corporate attire scares me to death.
A five-digit above-industry compensation is not enough to pay for loneliness and definitely not worth the lost time from

my family

. The interviewers waited for my feedback, since I had to excuse myself, telling them that I needed to contemplate things together with my wife since I can't be man enough to decide on my own. I feel so gay about not being man enough, but what the heck, I don't care at all. I refused the offer, to make a long story short.


Although it is true that a rare opportunity is offered to you once in a blue-colored moon as Pocahontas may have sung, but wifey really helped me understand that if the opportunity is truly for you, everything shall fall into its proper place in the right time. I just regret the way I answered confidently that I am willing to sacrifice everything, even if in reality, I feel otherwise. I was selling myself to them, and they bought me. I am glad that they offered me the position, but their offer just falls short when weighed against what I already have right now. In the end, it made me realize just how much I truly value

my family

.
final dose:
my confidence went up a notch after the interview
i think that is the only good thing that came out of it
And just like that, the first 31 days out of the 365 in the year just passed. Time sure is fun when you're having flies (ahehe). And before everyone else will be talking mush and feeling all corny this month of hearts, allow us to share what is in store for the Corteses this February.
While wifey felt the untimely loss of the

joker

,

son of the braveheart

and star of

brokeback mountain

last month, she can't help but cry for the lost chance of a valentine date with the (now late) hunky 28 year old heartthrob, God bless his soul. Alright I certainly made that up. Anyhow, aside from contemplating on a career move which we won't mention yet as we don't want to jinx it, things are looking quite busy for the hot momma, a couple of trainings lining up and four newsletters to be printed, one for every week of February.
The unpredictable health condition of little boy has been alarming, what with his vomiting just two days ago, a high fever for half of the day and excessive energy the rest of the night. As parents, we need to be cautious all the time. Aside from that, everything else is normal for Zai Angelo and as active as he is now, we're proud to say that he will be turning a year and seven months old come this February 20th.
Speaking of cautious, the big daddy is expecting an influx of examinations and a handful of notes to study this month. With a little luck and undying determination, he hopes to finally finish his continuing studies. He is way too cautious not to take heed of the jinx. With the announcement of the football tournament in the company, Toni is very eager to play one of his favorite sports again, he just hopes his team will do better this year and erase the semi-trauma of a disappointing winless record last season.


(pictures from left to right, click to enlarge)
the Corteses before toni's football game, Zai at 2 weeks
big daddy's csi-red team after yet another loss
little boy playing "kickball" @ eden nature park football field
Excitement and apprehension are building up. Celebrating the lovers month together for the second year now, toni and alli plan to make valentines a little more special this time by going out of town. But of course that would be a different story altogether, which we will soon share in a different post. So we hope you guys stay glued.
final dose:
happy hearts month from our family to yours