Continuing from where we left off, we arrived in
Manila at
a quarter to 7 in the evening on Friday. All the while
we tho
ug
ht that the day's protest rally in

Makati

had already died down; but the hustle and bustle of the ca
pit
al was still evi
dent
when the
bus traversed the stretc
h of

EDSA

. If not fo
r the car
that
Mhon's sister lent us, we would probably have looked like "

probinsiyanos

" acting as tourists, and would be more inconvenienced throughout the trip. Our great gratitude to

Manang

Sherry.
A sumptuous dinner at

Cuzina

, one of the many restaurants
in the

sutukil

strip along

Roxas boulevard

, kic
ked
o
ff the se
cond leg of our
Valentine's w
eek trip. Good thing half of the bill was Stephen's treat, sort of his celebration for passing t
he nautical board exam, much to our delight, as we enjoyed the variety of seaf
ood. Fo
od always tastes more delicious if it's free. It was way past 10pm when we left our bags at the

Universit
y Ho
tel

; we took a
few min
utes to freshen up as we didn't want to miss what was already a party scene when we passed the

sunken gard
en

of th
e

University of
the Philippines - Diliman campus

. Still heavy from the dinner,
we scoured the backstag
e and the fair area, not leaving without posing for photographs w
ith a couple of ar
tists. Th
is was o
ur third night on the trip and our streak of beer drinking was far from over, our alcoh
ol level got even higher at
Quattro bar

in

Timog

. Their beer mug was t
he
biggest we've seen so far, I can hear my liver complai
ning with every gulp. Tired from th
e travel, we went back to
the hotel
at around 4 in the morning.
The third day ended with the boys separated from the ladies. Freaking hotel rules.
Rise and shine
we did on Saturday as we enjoyed anoth
er free meal for brunch at

Heaven and Eggs

in

Eastwoo
d city Libis

, care of

Manang

Sherry this time. S
he sure is
generous. I can't figure out why of all
the stars in the

celebrity walk
of
fa
me

,
I posed for a picture on

Chiquito's

. Wifey opted to show her being a

Sharonian

. There's no denying that Eastwood has a well-planned cityscape. After that, we made our way to

Global City - the Fort

, and I can't
be m
ore amazed with the architecture, the streetscape and the whole built environment. If only the country was designed in such a way,
fountains and greens, all clean and neat. Anyhow, if not for the map we bought in a gas station we would have difficulty finding our way from the Fort to

Trinoma
mall

. There
we met up with Allison's cousin Mari, and his wife Grace. I was about to spoil
the day for acting li
ke
a kid, not getting the FrancisM shirt I sought, but t
he aroma
of a cup o
f coffee f
rom

Figaro's

, paired with a good smoke, plus the l
andscape architecture on the topmost floor of Trinoma somehow pacified me. After which I was already in the mood to give my wife a shopping
spree, while also buying something for the little boy we left behind. When we figured that our pockets were almost drained, we opted to have an inexpensive dinner
at

Mang

J
immy'

s, a know
n

carenderia

amo
ng the students of the
schools along

Katipunan Avenue

, so says my wife.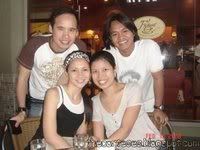 Toni poses at the star of

Chiquito

at the walk of fame in Eastwood
Mari and Grace with Alli and Toni @ Figaro's cafe in Trinoma mall

Alli, proud to be a

Sharonian

at the walk of fame in Eastwood
Satisfied with the sizzling dishes we had at

Mang

Jimmy's, we were ready to rock the last night of

UP fair

, but not without drowning some bottles of r
ed horse
. Now it goes without saying that we pretty m
uch had a good drinking
spree going at

Four Brothers

along

Maginhawa street in Teacher's Village

that we lost track of the time, especially with Allison meeting up her cousin Bunny, resulting in us not being able to catch a few of the rock artists that played in the Fair. But hell, we still enjoyed the rest of the night, big thanks to Doris for the backstage passes. I said to myself, What the eF! the last time I was able to rock and roll with a lot o
f bands of this magnitude was god knows when, probably since time immemorial. Sugarf
ree, Cambio, Chicosci, Hilera, Mojofly an
d Urbandub were among the bands who played. Wifey couldn't be more ecstatic to be back in

UP-diliman

and be part of the centennial celebration of her alma mater. As The Dawn was playing their undying hit

Salamat

, we were on our way
to the backstage after secr
etly drinking the beer in cans we sneaked in at the sunken garden's fairgrounds. We continue
d to rock on together with yan2x, genee and the few remaining artists among others. The time was a little over 2 in the morning when Cebu-based Indie band Hastang went to play
onstage. Gro
upies that we are, we proudly jammed wit
h the band as they sung

Oblivion

and

Random

. Then it just dawned on me - hey, I just experienced UP fair for the first time.

the three pairs at the backstage together with Doris
with the band Hastang, while waiting for the band's turn to play
Our last night of the Valentines week trip ended with a bang! Definitely.
By ten in the morning on Sunday, we were out of the Hotel, out of the

UP campus

and on the way to

Ortigas

to leave the borrowed car at

Paragon Suites

. The delay of our flight back home made us savor the

Valentines week trip

one last time. That was three days of paid leave, two weekends, six unique individuals, three dynamic pairs, a cold Baguio vacation, an enjoyable Manila trip, two nights of rocking at the UP fair, a million memories made and of course hundreds of photographs to cherish.
final dose:
again you can view more pictures at our multiply site
other related stories here and here, more pictures here and here.