February will always be considered by everyone as the love month. We, on the other hand, will remember the second month of the year especially because of our Valentine's week trip. February is the month when flower vendors and chocolate manufacturers make a killing. The month of eternal bliss and of sweethearts expressing mushiness and cheesiness.


To validate the month of hearts, The Corteses recognizes Monica and Justin as the quotable notables for February.
"Dia-Manang"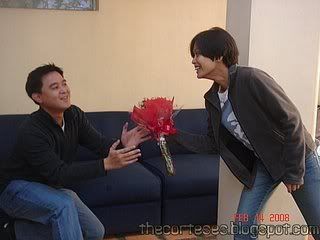 Justin Lim
and
Monica Crystal


These two are so crazy – in love and in real life – that they suit each other perfectly. They are a constant source of amusement and are not afraid to be laughed with… or at. Monica's crazy dance-antics and Justin's 3-minute-late comments never failed to crack us up during our Baguio-Manila trip. It definitely would not have been as much fun without them.
And so here's to you, you two kooks! With love and much laughter from

The Corteses

. Cheers!
final dose:
because of the busy schedule, this February end month post is delayed
Justin and Monica are also proud godparents of Zai Angelo