Like any given pre-requisite, March signals the season of summer. And with the early holy week, we can only imagine people rushing to book their summer trips. For sure, we won't have an extravagant vacation this time, we're tight on our budget for now, sad to say. We will stay optimistic nonetheless, something might just surprise us, we'll never know. Wishful thinking. Oh well, before you picture yourself sipping smoothies by the beach and enjoying a luau getaway, you may want to read on what's up with

The Corteses

this third month of the year.
It has been a laid back first week for the wifey, after months of non-stop training she finally got some room to breath. And with that, means more time to prepare for the moment she will finally

march

down the aisle for our church wedding. Allison has been busy with preparations - looking for the reception venue, invites, conceptualization and all the itsy bitsy details of what we picture to be a simple yet intimate ceremony. See how tight we are on our budget? It's because we are saving for the big day. Other than that, she finds comfort in watching american idol on television and playing with the little boy.
For the big daddy, well, nothing is final yet, but the scent is in the air of an end to his continuing studies. yey! Toni is almost done with all the examinations and was proud to get all the needed paperwork stamped with the word "cleared." Although he doesn't plan to

march

on stage as he thinks it would not be necessary anymore, he feels complete relief. The husband looks forward to finally getting his dream of building a dog house as his first project. He enrolled for a two-week refresher course to prepare himself in the dog-eat-cat-eat-mouse world of the construction and architecture industry.
The last time little boy went to the beach was about three months ago, so he can't control his excitement with just the thought of going back to Bantayan isalnd come holy week. He has been really playful as of late, he thinks running and

marching

around helps develop his milk belly transform into washboard abs. This early on, Zai Angelo is showing signs that he will be a talkative student in class. He mingles and joins in on any conversation. If he is not asleep, he bombards everyone with non-stop baby talk. If you don't see him dancing along with his favorite tv shows, he mimicks the sound of dogs and cats. He has always been a source of joy.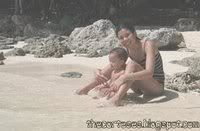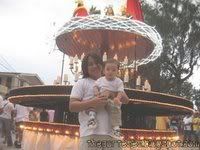 alli and zai @ samal island during our davao vacation
toni and zai during our holy week trip to bantayan island
That's about it, the month of March may not seem as lively as the previous ones, but we look forward to the surprises along the way and the celebrations of relatives and friends who will be graduating. Toni included, hopefully.
final dose:
until the official list comes out, toni is still crossing his fingers.


update:




finally the official list is out. and yeah! toni wants to boast...he is now officially a graduate.