Toward the end of this month, a little angel sprouted wings… and silk ribbons.


Anika was born on the eve of Cebu's

Sinulog

mardigras, 2008. She is two months old now and has been quite a little screaming, crying, demanding, pooping bundle of joy. Her parents are our good friends and have admitted to having sleepless nights and totally stressed-out moments when taking care of this silk-clad princess. She is indeed a princess… tiny but demanding everyone's attention and love.
Anika, as your godparents, we have promised to be here for you no matter what. And your '

kinakapatid

' Angelo will watch over you when you grow older. He'll make sure you're home before curfew, you don't drink too much, your friends are decent… the list goes on and on. And… he's already started.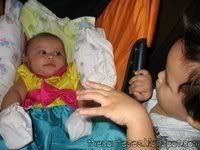 Angelo watches over Anika during her christening last March 29, 2008
We love you, little girl!!!
final dose:
Anika is March's quotable notable... and a very deserving one indeed.
The Corteses

welcome you to the Christian World.